Table of Contents
Why is Sedona such a Popular Hiking Destination?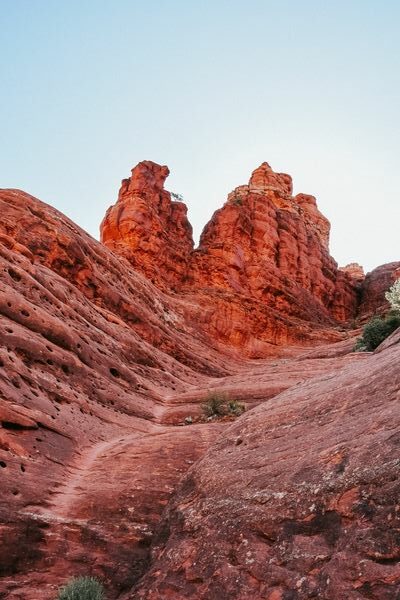 Sedona is a hiker's paradise with its stunning red rock landscapes and miles of hiking trails. The area offers something for everyone; from easy day hikes and family-friendly outdoor areas to spiritual treks and stargazing adventures. Sedona is a great place to explore the awe-inspiring beauty of Mother Nature.
Why are the rocks in Sedona red?
Once covered by water, the rock formations of Sedona were once islands and sandbars made of sandstone, shale and limestone. Formed by erosion from wind and water and some volcanic activity, the red rocks get their beautiful color from iron oxide, which is present in several of the rock types in the area. Over time the iron oxide leached out of the rocks and stained them red.
Is Hiking in Sedona Safe?
Yes, the Sedona area is a safe place to hike. However, as with any outdoor activity, it's essential to be prepared and take precautions. Be sure to wear appropriate clothing and footwear for the weather and the terrain, bring plenty of water, snacks and tell someone where you're going.
Depending on your hiking location, relying on cell service in Sedona may not always be a good idea. Carrying a paper map with you is always your best bet.
If you are planning on a sunset hike or stargazing, be sure to bring a flashlight to get you home safely.
No matter your hiking goals for your Sedona trip, you can find the perfect trail in Sedona.
Crescent Moon Ranch – An Easy and Scenic Walk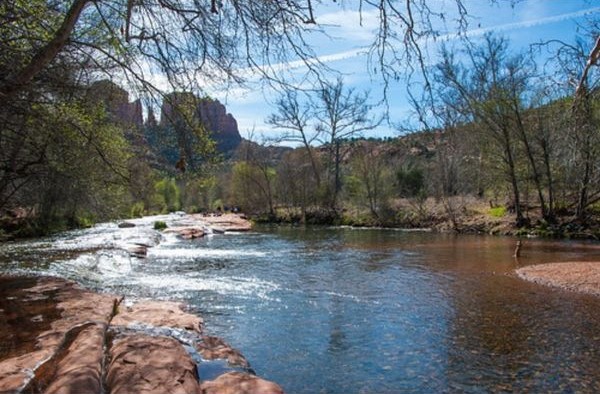 This easy, 1.9-mile paved trail is an excellent option for Sedona beginners. Located within the Coconino National Forest, the path has a creek-crossing and is often well-populated. The Crescent Moon Ranch was originally called OK Ranch and homesteaded in 1880 by John Lee, one of the earliest homesteaders to settle in the area. The land changed hands and was repurposed several times over the next hundred years until it was purchased in 1980 by The National Forest Service.
This hike provides great picnic spots and views of historic buildings. It's also a pet-friendly walk as long as your dog is on a leash.
There is a fee per vehicle (up to 5 passengers) for entrance to the Coconino National Forest.
What should I know before trying the easy hikes in Sedona?
Be sure to wear comfortable shoes and bring plenty of water and snacks. The more accessible Sedona hikes are typically well-marked and don't require any special equipment or navigational considerations.
When is the Crescent Moon Picnic Site open?
The picnic site offers a beautiful view of Cathedral Rock and is a popular destination for Sedona travel. It's open from 8:00 a.m. to dusk during the summer months.
Distance:1.9 miles
Difficulty Level: Easy
The Jail Trail River Walk – Enjoy Nature & History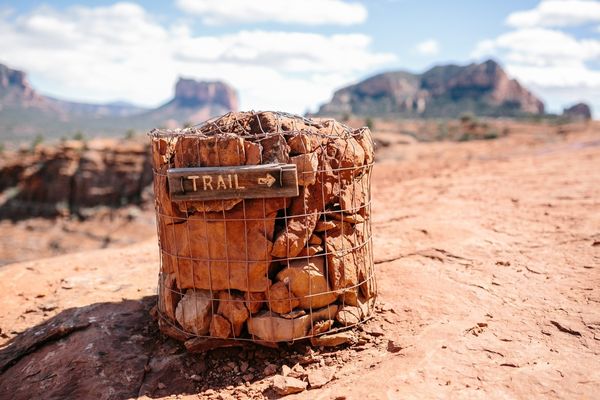 This Sedona trail is an excellent option for those who want to enjoy the scenery and learn about the area's history. The trail follows the Verde River and passes by an old jailhouse used in the 1800's. The jailhouse is now a museum and interpretive signs along the trail explain the area's history.
What should I know before trying the Jail Trail River Walk?
This 1.6-mile loop is considered easy and usually takes about a half-hour to complete. This trail is kid-friendly and parts of the trail offer shade making it a popular trail in Red Rock country. The course gets its name from a historic building that was once a local jail but is now an art gallery.
Distance: 1.6 miles
Difficulty level: Easy
Take in Amazing Views on Thunder Mountain (Capitol Butte) Trail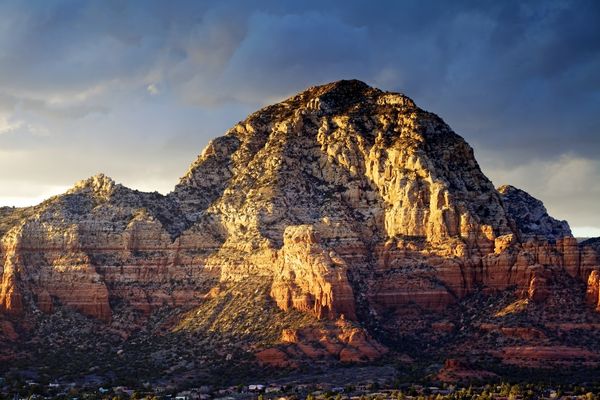 Experience the place that is said to have inspired Disney's Thunder Mountain attraction. This out-and-back Sedona trail is an excellent option for those who want to enjoy amazing views of the area and are up for a challenge. The course has steep climbs and is known as one of the more difficult Sedona hikes but also offers one of the best views.
Stargazing at the Thunder Mountain Trailhead
If you're not interested in the challenging climb but still want to experience a great view, the Thunder Mountain Trailhead is an excellent destination for stargazing. Sedona's ordinances protect against light pollution making the area's night skies especially beautiful.
Why is it called Thunder Mountain?
Thunder Mountain's name is historically Native American; it's related to the fact that this mountain is struck by lightning up to 4,000 times a year!
Distance: 3.8 miles
Difficulty Level: Difficult
Hike Close to Town with Cibola Pass and Jordan Trail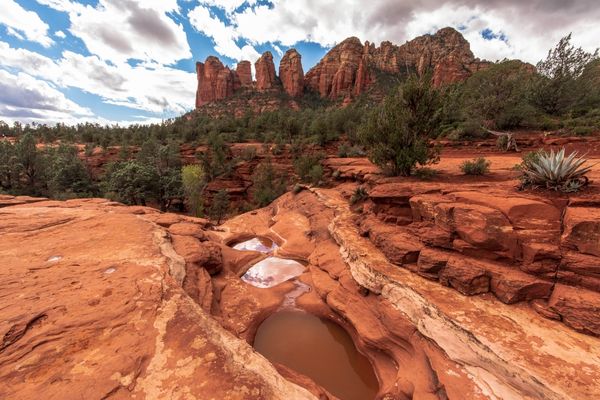 This Cibola Pass and Jordan Trail are within the beautiful Secret Mountain Wilderness. This loop is generally considered easy and provides about an hour-long hike. However, you should pay close attention to markers. The Jordan Trail can also lead you to The Seven Sacred Pools and several other trails throughout the Secret Mountain Wilderness which can provide steeper climbs but will reward you with amazing views.
What should I know before trying Cibola Pass and Jordan Trail?
Bring plenty of water; there is no water available at the Trailhead. However, there are several facilities for restrooms throughout the area.
Distance: 2.0 Miles
Difficulty Level: Easy
West Fork Trail – A Dog-Friendly Sedona Hike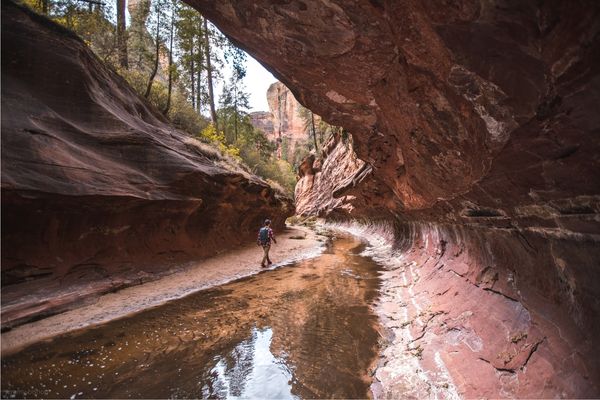 The West Fork Trail along Oak Creek is one of the most beautiful hikes you can experience in Sedona. Be sure to have waterproof hiking shoes as you will have to cross the creek! There is a plethora of flora and fauna along the trail and the calming presence of water.
This Sedona hike is an excellent option for those who want to hike with their dog but they must be on a leash. The views are stunning and plenty of shade will keep you and your furry friend comfortable on the journey while witnessing the amazing views of the Sedona red rocks.
What should I know before trying West Fork Trail?
Be sure to bring plenty of water for both you and your dog. The trail can be slippery in places, so exercise caution. Also, be sure to bring cash to enter the Sacred Mountain Wilderness. The entire route is pretty long for the average dog walk, but with its out-and-back style, you can decide when to call it quits.
Distance: 6.5 miles
Difficulty Level: Moderate
Devil's Bridge – Sedona's Highest Hike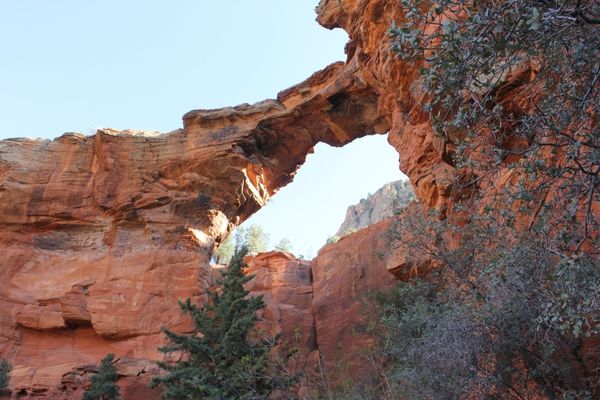 Devil's Bridge is one of Sedona's most popular hikes. The view and photo opportunities are unforgettable. Because it is such a favored and unique destination, hiking this trail at off times, such as scheduling a sunrise hike, may be the perfect option to enjoy this beautiful view.
Devil's Bridge is an excellent option for those who want to hike to one of Sedona's highest points within the Coconino forest. The trail provides views of the red rocks and leads to the real star of this show, a natural bridge that is over 200 feet high.
Be prepared to increase the distance of your walking plans by a mile if you visit during peak times as parking can be an issue. You may also have to wait in line to cross the bridge during peak times of the day. Again, a sunrise hike will help you avoid the larger crowds. There may also be ATVs driving along the hiking route.
Distance: 3.9 miles
Difficulty Level: Moderate
Hike to The Birthing Cave Vortex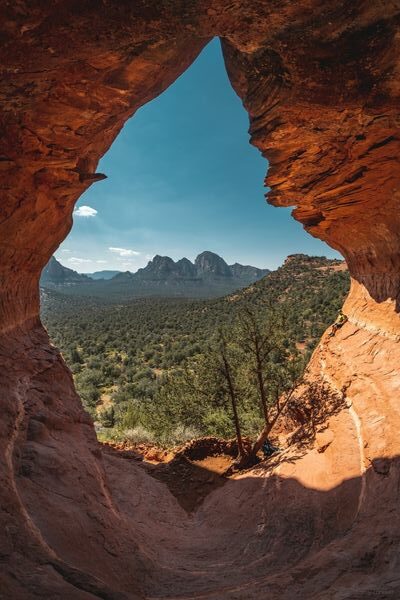 Why is it called The Birthing Cave?
This cave was once precisely what its name suggests. The indigenous women of the Hopi tribe used this cave on Mescal Mountain to give birth. While it is hard to imagine doing this steep climb during labor it is understandable why this was such a desirable site due to the safety and sacredness it provided.
The Birthing Cave is also thought by some to be one of Sedona's energy vortexes, or places of concentrated energy conducive to metaphysical activity, health and well-being.
Although not included in the official four vortexes, many regard The Birthing Cave part of this group and consider it a place of creativity and new beginnings.
What should I know before hiking to The Birthing Cave?
The hike to The Birthing Cave is relatively easy; however, the climb up to the cave is steep, and you'll need hiking shoes to climb safely.
Beyond the talk of energy, the cave is just a beautiful natural wonder. However, it is popular and relatively small therefore you may find the cave crowded upon entering. This is another destination that may be best hiked very early in the morning before the crowds set in.
Distance: 2.0 miles
Difficulty Level: Moderate
Enjoy the view on Marg's Draw Trail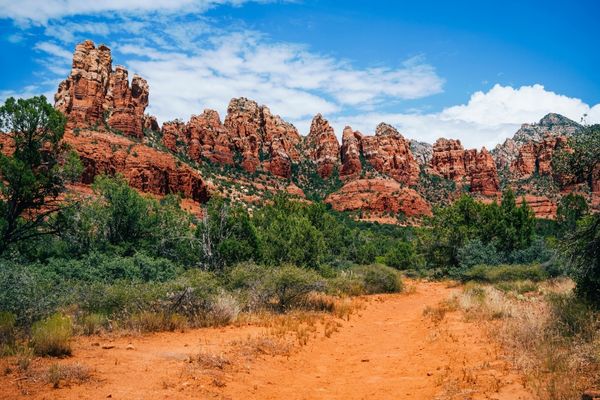 If you're interested in enjoying the beauty of the natural Red Rock area without the crowds, Marg's Draw Trail is a great place to do just that. This trail is perfect for hiking and horseback riding and is one of the less populated trails in the area. It is pretty flat and easy, and you can see some beautiful wildflowers bloom at the right time of year. You can also enjoy sweeping views of the area and the city.
Be sure to bring plenty of water because it can get extremely hot and there's not much shade on this hike.
Distance: 4.0 miles
Difficulty Level: Easy
Climb to New Heights with the Cathedral Rock Hike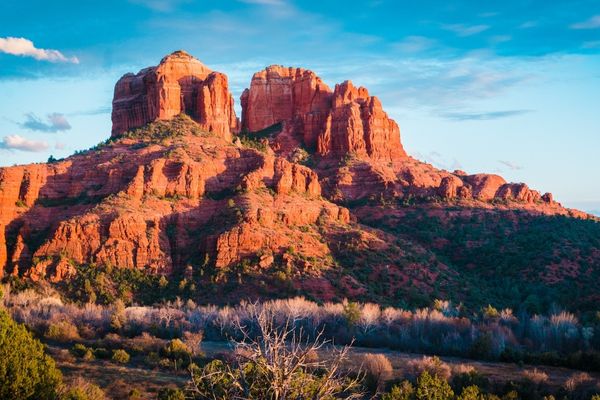 This hike is a favorite for a reason. It provides some of the most amazing views in Sedona and is worth every bit of the moderately challenging climb. Cathedral Rock is a must-see destination when visiting Sedona.
This Sedona trail is an excellent option for those who want to hike to one of Sedona's highest points. If you enjoy being where other people are you'll have plenty of company along the way on this hike.
Depending on peak times you may have to catch a shuttle to the trailhead. Check online to see the best options for arriving.
Can you climb to the top of Cathedral Rock?
Absolutely. The climb, at some points, is almost entirely vertical and the rocks can be hot from the sun, so come prepared. You'll also want to pack the appropriate hiking shoes for the best grip, but the views are worth the effort.
Can you hike Cathedral Rock at night?
You can hike Cathedral Rock for a sunset view that will be hard to forget. However, be sure to pack a flashlight if you do; it can be a little more challenging to come down from the peak in the dark.
Distance: 1.2 miles
Difficulty Level: Moderate
A Sacred Site – Courthouse Butte and Bell Rock Loop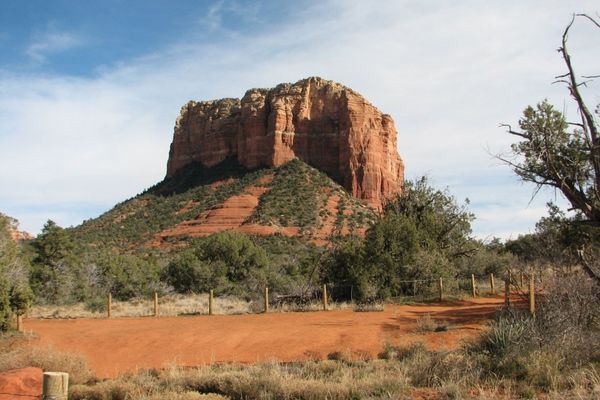 Bell Rock is one of Sedona's most famous vortexes. The trail around the area is a mostly flat loop that is great for children and pups. However, if you want to climb Bell Rock, this can be more challenging.
There are beautiful views throughout the trail of Courthouse Butte and Bell Rock Loop. This is a great trail to take around dawn or sunset for the view and to avoid the sun directly overhead.
The trail is easy, but if you want to climb either of the formations, be prepared for a moderately complex hiking experience.
Can you climb Courthouse Butte?
Yes, you can climb Courthouse Butte. You will need to have the proper hiking shoes for grip. Pitons at specific points along the way help you get to the peak.
Distance: 4.0
Difficulty Level: Easy
Preparing for a Hike in Sedona
Sedona is a beautiful place to hike, but there are a few things you should keep in mind before you hit the trails.
First, be sure to wear shoes designed for hiking. There are slippery areas on many trails, and you'll need a good grip for some of the elevated paths. Also, there's no such thing as bringing too much water on these hikes, especially in the summer. These areas are home to native wildlife, be sure to respect them and their home.
As you have read, Sedona is home to several vortexes, which many people hold as a sacred experience to encounter. You may see people meditating or just looking for a moment of solitude in the area's beauty. It's essential to be respectful of these areas and how people interact with these spaces.
Finally, be sure to check the weather forecast before you head out. The temperature in Sedona can vary widely, and some trails may be closed due to inclement weather.
Wondering what to pack for hiking in Sedona?
Here are a few essential items for your Sedona hike:
Sunscreen
Hat
Trail Map
Sunglasses
Appropriate clothing for the weather
Hiking Shoes or boots
Plenty of water
Snacks or a picnic meal
First aid kit
Flashlight
Sedona is a beautiful place to hike, and with some preparation, you can have a safe and enjoyable experience on the trails.
Parking for Sedona Hikes
Some of the more accessible hikes are, of course, the most popular and therefore parking can often be an issue. If you plan to visit these trailheads during peak hours, it may be best to take a shuttle or Uber instead of dealing with crowded a parking lot. Checking out some less-populated trails or visiting early in the morning or closer to sunset may also alleviate some of the parking stress.
Passes for Hiking
Most of the trails in Sedona have a fee for passes to hike. These may be assessed on a per vehicle or per person basis. Be sure to check online for the prices associated with entering a trail. Many trails are within one larger protected natural area, so you may need only one pass to hike several trails.
What to do in Sedona after a hike?
After enjoying a hike in Sedona, take a rest and head out to visit Sedona's Main Street and walkable downtown district for shopping and dining or check out one of the many local art galleries.
You can also drive down the Red Rock Scenic Byway or visit one of the many spas to relax after a day of outdoor activities.
The Best Place to Stay in Sedona for Hiking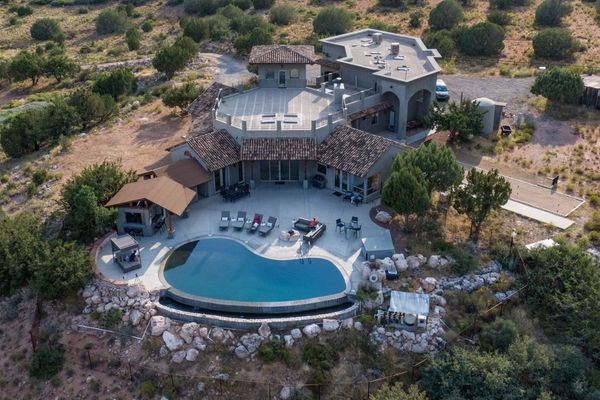 The best place to stay in Sedona is The Sanctuary at Sacred Mesa. This luxury vacation rental offers over 10,000 square feet of beautiful spaces complimenting Red Rock's natural beauty.
After a day of hiking, relaxing in the infinity pool and enjoying the Sunset is a dream come true. If you want the beauty of the desert, there isn't a better place to stay.
Take your Sedona outdoor adventure to the next level by booking The Sanctuary at Sacred Mesa.